Furniture Music
A LEVEL Centre R&D project in collaboration with Dr Toby Heys, Reader in Digital Media and Leader of the Future Technologies research centre in the Manchester School of Art, MMU, exploring sound as a sense and our reactions to sound at the very edge of perception.
'Furniture Music' is a term coined by Eric Satie in 1917 and refers to the idea of background music for informal spaces. Toby Heys' unique sound installation plays with this idea, using frequencies that reside at the edge of human perception which are played through an array of unique speakers built into specially made furniture. The exhibition explores how these sounds renegotiate our somatic interfaces – the skin, bone and muscle tissue that we imagine constitutes the boundary markers between ourselves and the world that surrounds us. The artwork is a mini-acousmonium that consists of infrasonic, ultrasonic, and sonic speakers.
Andy Williams, Director of the LEVEL Centre, introduces the exhibition in this VIDEO from a online news report by the Matlock Mercury.
I developed the series of bespoke audio devices – an infrasonic dual osc synth, a high-frequency 'Mozzi' synth patcher and a capacitive touch wav player – that drove the various speakers. These devices integrated the Teensy 3.2 USB-based microcontoller and it's accompanying Audio Adaptor Board and Audio Library along with the Mozzi sound synthesis library for Arduino with wireless control via custom TouchOSC interfaces on an iPad and the Adafruit Huzzah ESP8266 Breakout WiFi microcontroller.
A post about the development of these devices will be available shortly on my Development Blog.
---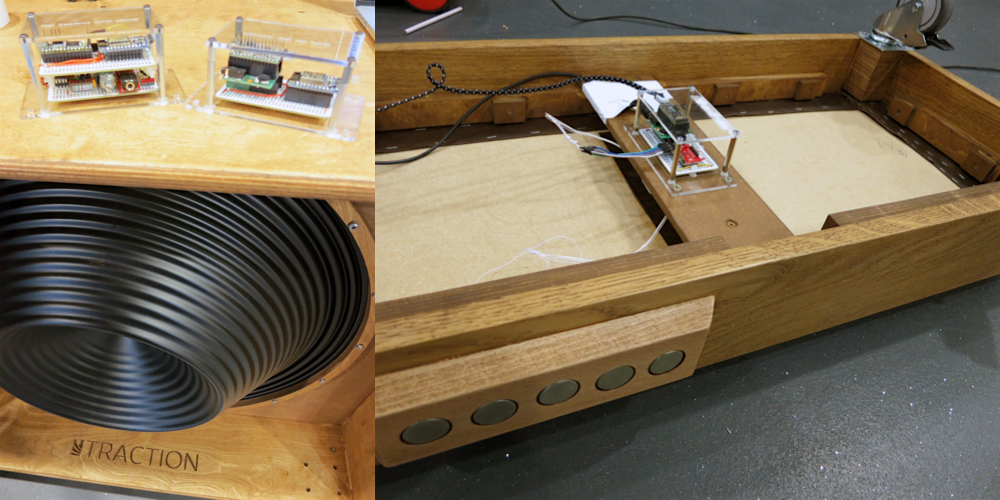 ---