COMMUNICATE
For more information about Cybersalon or to get involved contact:

Lewis Sykes, Cybersalon Coordinator: <lewis[AT]cybersalon.org>
Join the Cybersalon mailing list:
Get updates about Cybersalon news, projects and events.


NEXT CYBERSALON EVENT
CYBERSALON, NMK & SMARTlab @ UNIVERSITY OF WESTMINSTER
XMAS LECTURE 07
Thursday, 6th December, 7-10.30pm
The Pavilion, University of Westminster, New Cavendish Street campus, London W1W 6UW
Cost: £5 - booking now at xmaslecture.eventbrite.com
Nearest tube: Goodge Street, Warren Street
Martyn Ware - "A Journey Through Sound"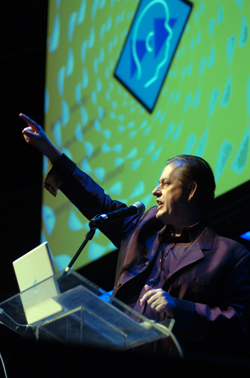 DOWNLOAD A PDF ABOUT THE EVENT
Music has been at the vanguard of the creative industries & has impacted upon new technologies. Digitisation and the growth of the Internet have had profound effects on music production, distribution and even the way we listen. Now music and sound are at the forefront of emerging technologies that can make truly immersive, sensorial experiences - akin to the Star Trek 'holodeck' - a step closer to reality. What does this 'Sci-fi Hi-fi' future hold for the musicians of tomorrow?
Join Martyn Ware who will discuss his 'future of sound'.
Martyn is best-known as a seminal 80s pop icon and co-founder of The Human League and Heaven 17. As record producer and artist, he has contributed to recordings totaling over 50 million sales worldwide. More recently through the Illustrious Company - his recent creative venture with Vince Clarke of Depeche Mode, Yazoo and Erasure - and his current Arts Council supported art project, the Future Of Sound, Martyn has developed a reputation as a convergent media 'Svengali' - working with and showcasing some of the latest developments in immersive media and emergent technologies.
The lecture will be chaired by Professor Lizbeth Goodman - Founder & Director of the SMARTlab Digital Media Institute & MAGICGamelab: currently Microsoft Senior Fellow & Chair in Creative Technology Innovation (also a well known performer and author/broadcaster) - who will share a taster of work by SMARTlab artists & SMARTlab/NESTA fellows.
Special SMARTlab Guests:
And More!!!
Following the lecture there will be a drinks reception and social networking/audiovisual lounge with a surround sound DJ set from Martyn and guests utilising The Illustrious Compay's 3D Audioscape facility. The SMARTlab Pirate Ship/Dance Club in Second Life will also be open for virtual clubbing...
About The Xmas Lecture
This will be the seventh Cybersalon/NMK Xmas Lecture, hosted this year in partnership with the SMARTlab. The lecture was established in 2001 as an opportunity for leading members of the UK new media industry to talk freely about their work and speculate about how media and communications technologies are interacting and impacting on society, economics, politics and culture. Lectures are attended by a mixture of new media professionals, academics, students, journalists and an interested general public.
In previous lectures, James Woudhuysen, Professor of Forecasting and Innovation at De Montfort University, Leicester, has talked about the cultural barriers to scientific progress; Eva Pascoe has described her experiences in founding Cyberia, the world's first Internet Café, and how Internet Cafes have continued to evolve and impact on society; Professor Jonathan Briggs has discussed the role of Internet technologies in helping to rebuild war-torn Kosova; journalist Bill Thompson has wondered if big business is destroying the Internet; and Dr Richard Barbrook has pondered the shape of nets to come.
This year's Xmas Lecture is supported by Sky, SMARTlab, MAGIC (SMARTlab core funders NESTA & Microsoft CSR).



LAST CYBERSALON EVENT
CYBERSONICA, NOISE OF ART AND SLIPPED DISCO @ 333 CLUB
GAMES:AV
Sunday, 28th October, 8pm-3am
333 Club, 333 Old Street, London EC1V 9LE <www.333mother.com>
Cost & Booking: £6/4 before 11pm (for live acts) and Free after 11pm - email <bookings@cybersonica.org> to reserve tickets and for payment details - tickets can be bought on the door.
Nearest tube: Old Street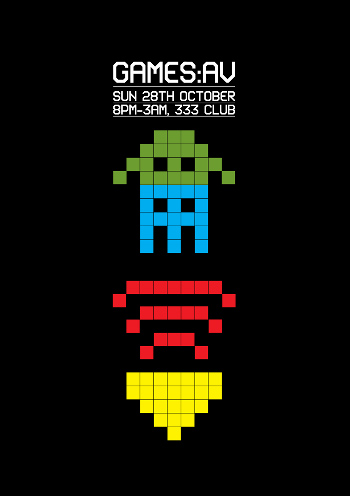 CLICK THE GRAPHIC FOR MORE INFORMATION
Three floors of music, art, fun and games on eight screens, multiple sound systems and numerous projectors.... part of the London Games Festival Fringe featuring...
Slipped Disco level: 10pm-3am
Ben Osborne vs Overlap
Vector Lovers
GAMES:AV Live level: 8-12pm
Future Shorts
gwEm vs Counter Reset
Jellica (Kittenrock)
The Lost Levels
The Sancho Plan
ZX Spectrum Orchestra
Playzone Level: 8-12pm
Boredbrand
Fijuu
Handheld
igloo
Nipplecat
Cybersonica, Noise Of Art and Slipped Disco host GAMES:AV - a live concert, screening and club night featuring musicians, DJs, VJs, audiovisualisers, 8-bit operators, film-makers, animators and digital artists whose work has been shaped by Video Games culture... plus a basement gallery of wall-sized interactive games...
There's an entire generation of established artists and up-and-coming talent who have been inspired by and influenced by video games; a wealth of grass root musicians and music makers "who are dedicated to the appreciation and reinterpretation of video game music" (VGM) - through numerous online communities; a vibrant scene of 8-bit music makers or 'chip tuners' who use the same sound chips as the original games consoles; various digital artist groups whose work explores alternative gaming experiences and the boundaries between gaming and art; and short film-makers and animators from around the world that draw from and are inspired by video game culture.
The line-up will see live performances and DJ/VJ sets from: Ben Osborne v Overlap, The Lost Levels, The Sancho Plan, Vector Lovers and the ZX Spectrum Orchestra and from 8-bit music makers and labels gwEm vs Counter Reset and Jellica (Kittenrock);; as well as contributions from grass-root, online Video Game music communities and 8-bit music makers; multi-player gaming experiences from Handheld and interactive works from digital artist groups such as Boredbrand, igloo and Fijuu and Nipplecat; as well as a Future Shorts specifically curated programme of innovative short films and animations from around the world.
GAMES:AV is part of the London Games Festival Fringe - a celebration of games and interactive entertainment taking place during late October 2007.
and is made possible with support from:
The National Lottery through the Arts Council England
and the London Development Agency